Link 80
The Struggle Continues... (Asian Man Records)
By: Alex Steininger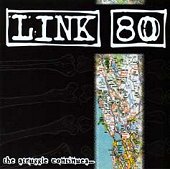 After the release of Killing Katie, the band's sophomore release, Link 80 suffered a horrible tragedy. Frontman and primary lyricist Nick Traina died of a drug overdose. Despite the gap it left, the band forged ahead; enter Ryan Noble, their new vocalist.

The hard knocking, horn-driven punk-ska-hardcore which first placed the band on the indie hardcore and ska maps is still present. But, the attention to melody, the sharp, insightful lyrics, and the chemistry that made their debut full-length 17 Reasons... and Killing Katie so dynamic is gone. Noble's voice doesn't convey the same urgency that Traina's did; and the force behind the music is a mere fraction of what it used to be.

"Addiction" and "Evil Twin" are just as fast, fierce, and heartfelt as the material you'll find on previous Link 80 releases. The razor sharp buzz saw of the guitars, the steam rolling drums, the bold bass, and the fiery horns still hold true. But, the music seems vacant; a big hole was left when Traina passed and as hard as they try to fill it, it just doesn't work.

Even when they fuse hardcore and ska ("Right Hook" and "Face Down"), the band can't stun and mesmerize you like they could with Traina at the helm. The one bright spot on the album is the blissful dance-induced rocker "Nothing New". Catchy ska keeps you burning time during the verse and the pop-punk chorus shines with enjoyable hooks and a charged, optimistic attitude. Pure adrenaline coupled with sheer danceable melody; Link 80 hits the mark here.

Once a sight to witness, Link 80 could captivate you on CD and then blow your mind even more when you witnessed them live. But, with the loss of a friend and the wounds still healing, Link 80 seems to not have fully recovered. As such, their latest is missing the excitement and optimism of old. I'll give it a C-.