Sinner
The End Of Sanctuary (Nuclear Blast)
By: Jeb Branin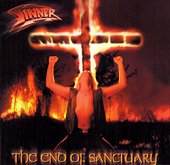 What in the name of all that is holy in heavy metal happened to SINNER? You would think that thirty years of metal bands falling flat on their faces after wimping out in an effort to make their sound more "accessible" would teach them a lesson. You would think, but you would be wrong, because SINNER takes one hell of nosedive on their latest offering "The End of Sanctuary" (which will forever be nicknamed "The End of SINNER"). Although some really nice twin guitar work is spattered throughout the album, overall this is so much weaker than their previous work as to be laughable. For some reason they decided that they could mutate their sound into some sort of hook and keyboard laden metallic pop. But the songs lack any real pop sensibility and all that is accomplished is a once mighty band ends up sounding like a second rate copy of the long forgotten AXE. A band, by the way, that actually knew how to handle this brand of metal. I would recommend metal heads avoid this like the plague.

On more thing, Nuclear Blast should have refused this album in the first place and demanded SINNER give them something that wasn't a waste of plastic.