Sheavy
Celestial Hi-Fi (The Music Cartel)
By: Alex Steininger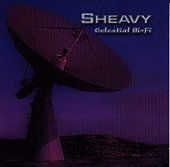 It's one thing to rip off a band and try to pass yourself off as that band. But, it's another thing to become that band. Sheavy is best described as the doppelganger of Black Sabbath. Lead vocalist Steve Hennemey has an uncanny knack for sounding like a mirror image of Ozzy Osbourne. And the music is a complete knock-off of Black Sabbath; entirely influenced by Sabbath and Ozzy Osbourne.

The band doesn't beat around the bush. They cut straight to the chase and deliver Black Sabbath from the get go. From the opening of "Hyperfaster" you'll instantly sense the Black Sabbath connection, the Ozzy Osbourne vocals, and the idol worship this band must have for their number one influence.

"What's Up Mr. Zero?," "Solarsphere," "At the Mountains of Madness," and "Tales from the Afterburner" are all hard rocking, sweaty arena metal cuts that will take you back a few decades to the time when Sabbath as at their apex and nothing could stand in their way or slow them down.

If you're looking for a young Sabbath to remind you how it felt the first time you heard heavy metal, than you could either put your old Sabbath vinyl back on the record player or put in Celestial Hi-Fi. Either way, you'll get the same effect. But, never settle for imitations when you could have the real thing. I'll give this a C-.