Reveille
Laced (Elektra)
By: Alex Steininger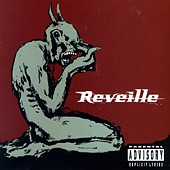 Hard, loud, snarling guitars, punctuating drums, stone cold bass, and rap-scream vocals that dance around the songs, Harvard, MA's Reveille serve up the tired cliche of rock 'n' roll: find a sound that sells millions and do it.

If you're going to do what's already been done to death, at least put your own stamp on it and make it your own - expand the sound and incorporate as much as you can to make it different than the others already out there. Reveille, however, does none of this. They borrow and steal from all the bands the rest of the pack is grabbing their sound from.

Laced is a heavy, loud, explosive album that has the same rap-metal vocals as the rest; things get soft as the vocals spit out the words before the metal hammer comes slamming down and the shotgun firing, rap vocals come spewing out. It is predictable and angst-ridden enough for the mindless masses to sink their claws into. It's so unoriginal it just may fly. I'll give it an F.