Mammoth Volume
Noara Dance (The Music Cartel)
By: Alex Steininger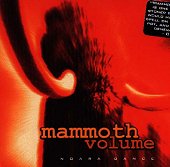 Following the lead of 70's rock icons like Deep Purple, AC/DC, Black Sabbath, and other like-minded bands, Mammoth Volume deliver scorching 70's rock grooves and plenty of psychedelia moments to keep you stunned and entertained for quite some time.

Light up a phat joint to the turbulent, stoned-face of "Railroad Rider." Mammoth guitars burn while the acid-induced rhythm section steals the show. Feel the heat as "Bighead" takes you right back to the 70's, free love, and free spirited rock 'n' roll that oozes with rebellion and reeks of drugs. And then there is "Bride of Flawless", an acoustic number which brings everything into the current millennium.

Raging arena rock blood pumping through its veins, drugs skewing its vision, and the world at its fingertips, Mammoth Volume burn through retro rock without missing a beat or feeling out of place in the current millennium. Light up and enjoy as the guitars do to your mind what acid once did; I'll give it a C+.