INTERVIEW: The Jimmies
Pop-Punk's Saving Grace (Panic Button/Lookout!)
By: Alex Steininger



"We're definitely not young pups. But there are things to be said about not being young pups anymore, too, like more experience," points out Barry, The Jimmies' guitarist and songwriter.

Though they may not be in their twenties anymore, Longview, Washington's favorite pop-punk act The Jimmies have a lot more than youth going for them; they've got solid rock music with songwriting and, dare I repeat it, experience behind them.

Formed over eleven years ago in the small town of Longview, Washington, two brothers, a step-brother, and a longtime friend, (the 5th member has since departed the band to raise a family) The Jimmies have stuck through thick and thin together. The shit has hit the fan plenty of times, and lesser bands would have given up at the mere site of problems. Yet, the band with the motto "win some, lose most" just keeps on going, persisting through whatever struggles come their way. Barry is even quick to point out the fact that the band is one big family comprised of brothers and a childhood friend ("We wouldn't have lasted this long. It's helped us through the hard times").

With enough hard times behind them to last several life times, the opportunity to expand their audience and get their name out there has finally presented itself to the band.

Their second full-length, Let The Fat Men Plunder, was recently released on Ben Weasel's Lookout! Records-distributed label, Panic Button. "It puts the spark back into it, at least for me," Chris, the lead singer of the band, comments on the band signing to Panic Button. "Not that I was burnt out or anything, but it was a very uplifting thing."

"The good thing is we don't have to sell a million records in Portland," Barry smiles. "The label is more out there. Before, you'd have to really go out of your way to find Countdown [the band's debut full-length]; you'd have to hunt it down. But, with Panic Button, we've had people e-mail us from New York and it kind of found them. People that lived here years ago, moved to New York, lost track of us, and then saw ads and stuff for the new CD. That's something that has never happened to us before. Stuff like that really opens the door, helping the record find people rather than people finding the record."
When the conversation turns to missed opportunities and opportunities the band has passed up on prior to Panic Button, Tim, the drummer, points out that he "tries to use regrets as something [he] learns from."
Barry follows that statement with a comment that is both reflective of the band of old and optimistic towards the future: "So many times we got loaded after shows - good shows - and we should have been making connections. And we didn't. We were too busy getting drunk. That happened with a lot of bands, though. Those were partying years. It couldn't have been any other way, though."

The fourteen songs that comprise Let The Fat Men Plunder are still as potently pop and energetically punk as The Jimmies previous releases, including the Someone Has To Play Last EP and Countdown. But, where the "win some, lose most" pessimism was ever present in those two albums, Fat Men offers up "Advantage", a song that sports the lyrics "No one makes it on the first try/ No one makes it on the second try/ No one makes it till they realize you got it." "Ginger," a love song to the stranded vixen, and "Summer High," a song about getting stoned and looking for something to do, also help brighten up the album and give it an optimistic view on life.
"The recording is less polished on the new one compared to Countdown," Tim offers as another difference between Countdown and Fat Men. "But I really like that, because it has more of a live sound."
Barry also points another major difference: "It's different. I mean, we went in and recorded a seven-minute song. And that's kind of different for a punk band to do."
With a new record, a supportive record label, and the outlook that the sky is the limit, the conversation turns to touring in support of the record and trying to take the band as far as it can possibly go.
"I would have a really hard time [touring non-stop], because I just bought a house and have a mortgage payment," says Barry very honesty. "I've got medical benefits and a real secure job. Would I really want to throw all that away?"
"That's off the record, of course," Tim jumps in. "For anyone that thought we had spirit, or used to like our band, that's off the record."
"OK, I'd throw my job away in the toilet in a second. Print that!" smiles Barry.
"I would do it in a heartbeat," Chris quickly states. "I would quit whatever I had going and giving it one last shot."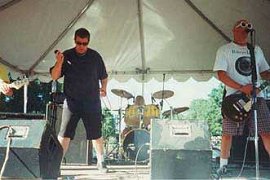 "I'd be willing to hit the road if I had enough money to handle my bills," Tim delivers with confidence. "I don't want someone to hand me the red carpet. I have a few loan payments and dumb things like that; if there was some way I could make $600-$700 a month to send home and keep the bills straight... I'd be all for touring."
"You've got to be realistic," states Barry carefully. "I've had this dream since I was a kid and wouldn't want to go to my grave thinking I got this far but didn't go for it. If there was a real opportunity, and things were looking really good, and this one thing would put it over the top, I'd be more apt to chance it.
As show time comes near, we finish discussing the band's new album, touring possibilities (they're going out in June with label mates Royal Crux), and your Epitaph/Lookout! pop-punk kids ("I had a 12 year old kid come up to me at our last Longview show and ask me how old I was," Barry tells us. "I told him nearly 35 and he thought it was cool I was playing music. That was really cool. But, I could have been his dad!"). We also talk about time spent in the recording studio, and a few other things, before they shuffle off to get ready for the show.
As we were packing up to leave, Chris commented on the band's longevity: "I can't picture the day we quit playing. I can't imagine going, 'OK guys, we're done. Let's call it.' I just don't see that every happening. And I think that is one reason time doesn't matter; we're playing good ol' rock 'n' roll."
"At this point, if you're only doing it to get rich, we've been kidding ourselves for a long time," jokes Barry, and off they go.