INTERVIEW: Amazing Crowns
Rock-A-Billy Goes Punk and Punk Goes Rock-A-Billy (Time Bomb Recordings)
By: Alex Steininger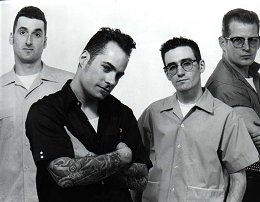 They say what doesn't kill you, only makes you stronger. The Amazing Crowns are living proof of this. Originally known as The Amazing Royal Crowns, California's Royal Crown Revue felt their names were too similar, and forced them to drop "Royal" from their name. Instead of throwing a fit or lashing back at RCR, they came up with the catchy slogan "Still Royal to the Loyal," and moved on.

That was just the tip of the iceberg though. Label problems would soon force the delay of the band's sophomore release, Royal. After self-releasing their self-titled debut themselves and selling 1,000 units on their own, Boston indie Monolyth re-released it and helped the band sell an additional 10,000 units.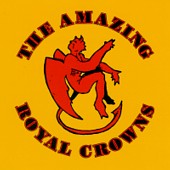 On the success of the Monolyth re-release, BMG-distributed Velvel Records signed the band, re-releasing, yet again, the self-titled album. Helping them reach an even wider audience than before, Velvel put the band on the road, traveling coast to coast in support of the album.
Then, as the band entered the studio to record their follow-up, Velvel went under, leaving the band without a label or support from anyone. As frontman Jason "King" Kendall explains it, "we were broke, we had to borrow money from people. Monolyth was great, they loaned us money and were very helpful."
And, The Colonel, the band's original guitarist, left the band. Yet, throughout all of this, the band kept working - recording, touring, and looking ahead to the future. Replacing The Colonel with J.D. Burgess ("J.D. brought a huge amount of creative juice to the band," states Kendall), recording Royal, and looking for a new label, they eventually ended up with indie Time Bomb Recordings, home to Social Distortion, Mike Ness, and Reverend Horton Heat, to name a few.
"Our initial meetings with [Time Bomb] have gone really well," explains upright bassist Jack Hanlon, "and they came out to see us in LA. I think they had a really good time. I think we're really at home with them and I think they really understand what we're about, where we come from, and what we're looking to do."
"I agree with that," Kendall quickly says, "but I also think it's too soon to tell. To me, all the horses aren't in yet. I want to wait a little bit."
Kendall pauses and then elaborates. "I just don't trust anyone," he says. "I do believe that Time Bomb is a cool label, and they seem pretty honest in their goings about everyday business tactics. And, of course, there are bands on the label that we respect, admire, and play with, like Mike Ness and Reverend Horton Heat. I think they're good and it's the best possible world for us. I mean, what are we going to do, go to Epitaph? There are a million bands on Epitaph. We've never been the type of band that wants to be lumped in. Epitaph is a great label, but we don't want to be lumped in with anything. Not to say Time Bomb doesn't have a boatload of acts. But, it doesn't. It just doesn't have a small roster or a huge one, either. So, I'm going to wait and see so I can make my judgement."
Honest and willing to tell you what's on their minds, The Amazing Crowns, especially Kendall, don't shy away from tough questions. If they're feeling it, they don't mind saying it. This type of attitude - the raw energy and honesty - comes through clearly in their music. Energy-driven, sweat-drenched rock-a-billy, Kendall delivers 1-2 punch vocals and unadulterated lyrics, while Hanlon's bass slaps and bounces with vigor, Burgess' guitar both soars and roars like a mighty engine, and drummer Judd Williams' keeps things slick, on time, and plentiful.
With a live album just released and their Time Bomb debut slated for June 6th, The Amazing Crowns have a lot to talk about. Sitting down backstage before their Portland, Oregon appearance, we talk about both the live album and their sophomore release, as well as the time it took to get the second album out, the recording process, and everything they went through in the past two years.
"It feels good, but it's been in the can too long," states Kendall on the time lapse between their debut and the forthcoming album. "We're already writing new songs. There are songs on the live album that are newer than songs on the studio album. But it feels good. I think it will prove a lot of things to people; like we expanded musically and learned a lot about different styles of music. We had some line-up changes and a lot of time went by, so we wanted to do something different."
"The fact that the first record was released so many times, it feels really, really old," adds Hanlon. "But, I suppose a lot of people didn't hear that record until it got onto Velvel. But it's still been way too long and I'm glad that the record is done. I just can't wait to get it out."
Hanlon is also very quick to point out that the lapse was out of the band's hands: "We're trying to show people that we haven't been slacking. We've been working hard, we've just had problems getting our stuff out. That's going to change [soon]."
Hanlon couldn't be more to the point, because when we get on the subject of Royal and the live album, there is so much Kendall and Hanlon have to share.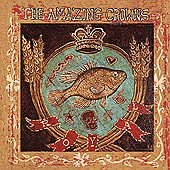 "First of all, when we went into the studio, we wanted to give the bass the spotlight," explains Kendall on the band's goals for Royal when they first entered the studio. "Whereas, on the first album, we didn't really know how to record the bass. If you listen to that first album, you don't really get a good sense of what Jack's doing. You can't really hear it. You can hear some of the slappy stuff, but you can't hear the low end as well. It takes a lot to properly record a stand up. Especially when you're as loud as we are. So, we went into the studio and really wanted to concentrate on that. This time we took some time out; we didn't record the thing in two days. I really think we got an amazing sound."
With the time between records, the touring to help the band mature as a unit, and the growth in the band's sound, what can we expect from Royal?
"We wrote all sorts of different types of songs for the album," Kendall proudly proclaims. "[You'll find the] regular punk rock-a-billy stuff we do; there is some traditional rock-a-billy; there is a ballad-y country western song with steel guitar on there; and there is a garage-punk-rock song called "Mr. Fix It," which is looking to be the single. It's really catchy and has organ and all sorts of stuff on it. We just went all over the place because we felt ourselves growing. It just shows."
Entering the studio with The Mighty Mighty Bosstones' Joe Gittleman, who took the band under his wing and helped them realize their full potential, The Amazing Crowns were able to grow even more in the studio and capture the sound they wanted to achieve.
"We had a hand in producing it, but Joe Gittleman from The Bosstones was in the studio with us," says Kendall on the production credits for the album. "Joe Gittleman, though, was a producer more in the old fashion sense. Now days when you hear about producers they're in there twiddling knobs. Joe Gittleman worked with us before we were even in the studio. He came down to our shows, came to our rehearsals, and would be like, 'this sounds good, and this sounds good, but why don't you structure it this way'."
"It's true," adds Hanlon. "He was definitely like a producer in the old style sense. The recording is important, and he had a lot of good ideas for that. But as far as technical stuff, he knows what sounds good and knows the basic ideas. He's the kind of guy that tries to get the good performance out of a band. And, he's a songwriter, so he helps show you where you're going right and maybe where you're not going so right."
"I listened back to the early versions of the songs and then listened to the new versions of the songs with little hints that Joe gave us, and they sound much better," adds Kendall. "They flow better and the choruses are a lot more powerful and catchier."
We soon started talking about the sound they achieved on the new album and how they felt about it, as well as if there is anything they'd like to change about the album.
"I like the way it sounds a lot," Hanlon states with a smile. "I'm really happy the way things came out."
"The only thing that I wish we could change, and I know we speak for the band, is that we just wrote three great new songs and I wish we could go back and put them on the album," Kendall says with confidence. "That's it though. Other than that, I am totally satisfied with the new album. I love it."
"When we started recording we were under a lot of time constraints and all. My only thing is, I wish we could have gotten the songs a little more seasoned by playing them live," adds Hanlon. "I wish we had a couple of months to play them live and change the little subtle things that you do live and put them on the record."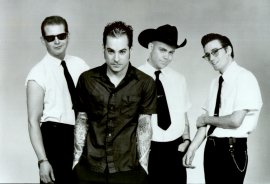 "To the normal person," Kendall informs, "unless you listen really carefully a bunch of times, you may not notice [the subtle things]. But to us, to me, they sound better with these little embellishments. But, I think any band is going to say that. And that's a good thing, because if you're always changing, then that's good. I definitely never want to be in a band where you have to reproduce what's on the album every night, because that's boring."
Following that, we started talking about the kind of sound they wanted to capture, and if there was any reference material they played for the engineer prior to recording the album.
"On the bass, we listened to the Brian Setzer album," remarks Kendall. "Not that the Brian Setzer album is our favorite album or anything, but I really like the bass sound on it. And so does Jack. I think we did a good job of not copying it, but getting that sound somewhat."
"During basic tracking, that was probably the one CD that was actually played to the engineer before we really got the bass up and running," clarifies Hanlon. "The technique we used was not identical, though. The bass is miced acoustically, but it's also run through a bass amp similar to the one I use live. It's kind of mixed in there all together."
Then we got on the topic of the live album.
"It's cool that Time Bomb let us do that," Kendall says enthusiastically. "Labels don't usually let band's do that stuff. And, to me, that shows we really did make the right decision and that these people are nice and honest."
"You can definitely tell it has been recorded at a club," offers Hanlon. "The P.A. isn't the greatest... It is very informal."
"At first it was supposed to be [a good set up for Royal]," informs Kendall. " Royal had originally been pushed back until August. And we were freaking out, going 'we have to put something out.' So, we had this idea. For the past four years in a row we have this Providence Payback festival - for two or three nights, three nights the past few years - of different bands every night for five or six dollars. Five bands - good bands too - a night, free gifts, and everything. We had this idea that we'd just record one of the sets, or all three nights, and release it, and that would be a good set up for Royal. But now Royal got moved up to June 6th. So, now they're close together.
Originally we were going to do it on Monolyth, so it would have a little bit of distribution and be a really good set up. But, with it coming out in June, we thought that might be a little too much. We're now just going to put it out on our own label, sell it at shows, and have it be a fan thing and a way of saying thank you for people that have stuck with us and still come out to see us."
Jason offers up more insight into the live album: "We did it really quick and didn't put any bells or whistles in it. It was just one of those things were we went through three days and were like, 'we like this and this and this, let's put it on'. It works really well. There are times where I'm garbling words and screwing things up. We're all making some mistakes on it, but it doesn't matter, because it's a live recording.
It does a great job of capturing the complete, crazed antics of the audience. They're really over the top. We put a couple of covers in there and there are times during 'American Nightmare' the kids are singing the wrong words. There was nothing we could do about it, though. You put the microphone with them and they go 'NAH!'"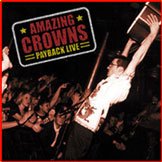 Releasing it on their own label, doing all the graphics and layout themselves, the Providence Payback live album should be re-named "Royal's Loyal Fans Payback." A true testament to this band's dedication to their music and their fan base, The Amazing Crowns are one of the hardest working bands out there. And no matter what happens, they always remain the same, kind-hearted folks they always were. And just to let us know what we can expect from them in the future, Hanlon leaves us with this:
"We're just trying to keep as busy as we can."