INTERVIEW: Alien Crime Syndicate
Loop-Laden Power-Pop With A Rock 'n' Roll Tail (Collective Fruit, Inc.)
By: Alex Steininger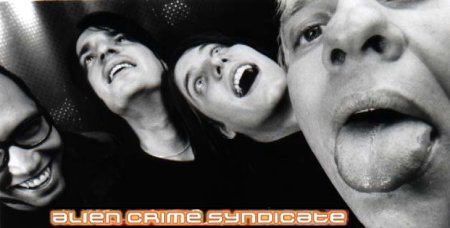 Former Meices' frontman Joe Reineke has been through it all. The Meices released a few full-lengths on London/Polygram, toured relentlessly, and then called it quits. Following the demise of The Meices, Joe formed Alien Crime Syndicate. Signing another major label deal with Revolution Records and landing Gil Norton (Foo Fighters, Pixies) to produce their debut album, Alien Crime Syndicate seemed poised to reach the big time. The lights of fame were optimistic and bright.

But, they say all good things must come to an end. And, before this ride was ever to pan out, Revolution's staff was fired as the label went in another direction, and the majority of the bands were dropped, including Alien Crime Syndicate.

With the Gil Norton-produced full-length in limbo, and without a label deal, Joe and bass player Jeff Rouse re-located from Los Angeles (by way of San Francisco) to Seattle, where they met up with indie record label owner and drummer Nabil Ayers. Completing the line-up is guitarist Jason Krevey.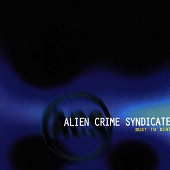 With a new hometown, a record label willing and able to put out the record (heck, the drummer is in the band...), and the courage to move forward and not dwell over the fate of their Gil Norton-produced masterpiece, Joe and company went in and recorded Dust To Dirt (Collective Fruit, Inc.).
A tight, powerful pop record with juicy hooks, sweet vocal harmonies, a rocking drive, and zany drum loops galore, The ACS were back on top with an album that makes your mouth water and your feet bounce.
"It felt good to know it would come out and reach people's ears," comments Reineke on Dust To Dirt. "Four or five songs that we recorded for the Revolution Records full-length were re-recorded for Dust To Dirt."
If it's true that all good things must eventually come to an end, then it's also true that good things come to people who wait. Which is exactly the case for Joe Reineke and Alien Crime Syndicate. Seattle-based indie Will Records has since bought the rights to the Gil Norton-produced album and will be releasing it in early summer.
Collective Fruit has agreed to stop pressing Dust To Dirt on CD (the vinyl will still be available on M-Theory Records), as they gear up to tour relentlessly and concentrate on promoting the upcoming Will Records release.
Joe and I soon start talking about his production work on Dust To Dirt versus working with Gil Norton.
"Gil was up our ass about stuff and it was great," Reineke says with pride. "I learned a lot working with him. In a way, it was like boot camp. It was hard, hard work. Every little thing really does add up. We spent three hours doing drum tracks and transitions just to get the right sound that we wanted."
As for taking control of the situation and producing Dust To Dirt himself, Reineke thinks for a second and then comments that "Producing... it didn't seem all that crazy. It was tons of work, don't get me wrong. But, it felt really natural."
He continues by acknowledging the contributions Gil Norton made to the original recordings; "On the other hand, the great thing about other producers is that you have another set of ears. You have an objective view to help you out.
"It's really nice when you can respect other's opinions. Because when you're recording the songs, you're too close to the project. So this objective ear can come in and point out things you don't necessarily hear. It really helps."
Reineke then makes it clear that he just can't give Gil enough credit for what he did for the band: "Gil is a genius. I can't give him enough of a shout out."
As for Dust To Dirt, which is currently available, the band has no expectations for the album. They're just going to let it run its course and set up the Will Records release, so, hopefully, bigger and better things will come their way.
"We don't have any expectations for the album," shrugs Reineke. "I'm not going into it thinking I'll be a rock star. Whatever happens, I'm cool with."
As the conversation about Dust To Dirt nears the end, Reineke leaves us with one final thought about the album and the band: "I would like to think that good things come from a good record. The record's out now and more and more people are finding out about it, so that's good."