Tim O'Brien and Darrell Scott
Real Time (Howdy Skies)
By: Alex Steininger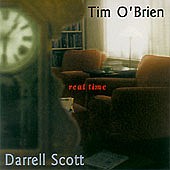 Recorded last November in the comfort of Darrell's living room in "real time," Real Time is a cozy trip through Americana; an album that can tell a story and have you on the edge of your seat smiling, waiting to hear where everything leads.

Hank Williams' "Weary Blues From Waiting" is turned into a fresh tale as the guitar and mandolin deconstruct it and piece it back together piece by piece, while their A Cappella rendition of Williams' "A House of Gold" sounds like a timeless artifact pulled from the past after having been re-discovered.

A tender cross-country journey through the soul and the mind. "More Love" is romantic, the type of song you can sit down and enjoy while the rain pours or the sun shines down on you. "Little Sadie," a tale of murder finds you enthralled as the guitar builds the story and then unravels it for you. Then there is the pensive "Long Time Gone," a song that reminisces on the past and builds a bridge to the future.

Rich and flavorful, the aroma and sound of Tim O'Brien and Darrell Scott's collaboration is one that embodies friendship, shared musical visions, and a knack for warm, pensive songwriting that will find you enjoying every minute of it. I'll give it a B+.