Peter Searcy
Could You Please And Thank You (Time Bom Recordings)
By: Alex Steininger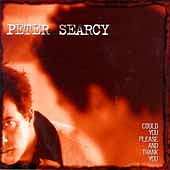 Former Squirrel Bait frontman Peter Searcy finds equilibrium between his punk rock upbringing and his tender pop sensibilities on his debut solo effort, Could You Please And Thank You. A collection of eleven well-written, well-structured pop songs that demonstrate the growth and musical maturity Searcy has underwent throughout the years, the album is a proof that you can mature and still appeal to kids as well as adults.

"Losing Light Fast," the album's first single, is an infectious, crunchy pop number that fits in perfectly with the crop of modern rock bands tearing up the pop charts, while also possessing substance, songwriting ability, and emotionally thought-out lyrics (something modern rock radio lacks).

"Hateful" packs Searcy's accessible, insightful lyrics with punchy rock and crunchy pop melodies, while "Ceiling Stars" drives you wild with striking guitar strokes and hammering percussion. "Nothing" finds the tender side of Searcy as he delves deeper into his pop inklings and delivers a touching, soft, heartwarming piece sure to calm you down after the beating rock that precedes it. And "Movie Star Life," featuring Sponge lead singer Vinny Dombroski on drums, sooths your open wounds with jagged edges and harsh lyrics all calmly placed over light, relaxed pop.

Delivering plentiful rock along side matured pop melodies, Searcy looks towards the future with longevity and establishing an ever-growing fan base, instead of going for the quick one-hit-wonder approach. Could You is a solid testament to this. I'll give it a B+.