The Illuminoids
The Illuminoids [Cassette] (Microscopic Lighthouse)
By: Gary "Pig" Gold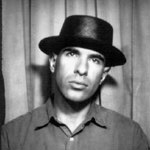 Wherein our ol' pal Lenny Molotov ruminates on l-u-v lost, longed-for and latent, along with a crack new back-up outfit fittingly dubbed The Illuminoids. That said, these four songs explore both musical and lyrical worlds those familiar only with Lenny's more politically clandestine side might find a bit, shall we say, out of character?

Others less conspiratorial (and more crotch-oriented) should revel instead in this here heady brew of hard, as opposed to anti, folk: yes, ladies and gentlemen, Lenny GETS DOWN. "Mysteries Of Life" tears things off on a nicely discordant Doors-y foot (echoes of eerie icon Jack the Pedler surface as well), as our singer poses, in a most wonderfully snotty Dylan whine, literally dozens of questions, both musical and spiritual --then wisely declines to answer but a one. "Her" is similarly cocky in its cockeyed logic: I mean, what's the last love song you heard that was totally devoid of sap? "Waitress" so rightfully damns NYC as the home of all the world's most schizophrenic, daydreamingly self-denying of lifetime moonlighters, while "Love Train" utilizes no less than New York's subway system to quickly, and relatively cheaply, run away from both emotional commitment and, well, whatever other demons haunt your every waking moment. Ouch!

The Illuminoids, especially guitarist "Mr." Scarecrow, are more than up to the task of bathing Lenny's every word and chord-twist in accompaniment that's both adventurous and unobtrusive, and what results is a tape that's a giant leap forward for the slyly-talented Molotov, as well as one hell of a Pardy Hardy mix to boot. Classic!