Libertine
See You In The Next Life (Substandard)
By: Alex Steininger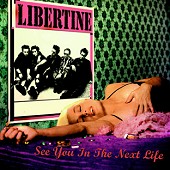 If I were to pick a modern band worthy of fitting in with the Max's Kansas City/CBGB's crowd of old, LIbertine would be it. These guys equal parts New York Dolls, The Ramones, and Social Distortion. Yet, they pull it off without being a cheap knock-off.

Of course, the first time I put in this CD I would have sworn it was a Tim Armstrong side project. The vocals are similar to the Rancid frontman's and the music resembles melodic early Rancid. However, by the end of the CD Rancid was no longer on my mind. These guys ripped off all their idols, put plenty of Glam to it, and then spit out something quite their own.

"If Wishes Were Horses" is hard driving and filled with plenty of beats to slam dance too. The vocals are razor sharp and full of angst-driven fuel. Yet, the band's knack for crafting melody and power at the time same shines above all, hooking you in before kicking your ass. "Heartbreak" throws more roaring guitars, slamming drums, thundering bass, and vocal aggression your way, but the band never loses sight of their melodic Glam-gone-punk style.

"Next Life" is the apex of the band's fusion of melody, hooks, and plentiful punk rock drive. Shattering your mind with a one-two combination throughout, the song is amped up, charged rock from the get go, all coated with swinging blows of melody, grabbing you and shaking you vigorously.

Then there is "Volunteer." All-out punk that would contend with any CBGB's band during their peak, the song spits out teeth at you, destroying anything in its way, while dancing with it. "Outside" bleeds from more razor sharp blows to the skin, and "The Sound of the Saints" brings you to your knees with its in-your-face spite and energetic demeanor.

Rock 'n' roll is now defined by several sub genres. Libertine, however, take it all back and turn rock into one sound - a wild concoction of power, fun, and melody - just like it should be. I'll give this an A.