The Winter Chapter
Time of Faith (Self-Released)
By: Sonya Brown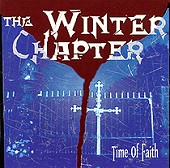 Time of Faith, the 10 track CD from The Winter Chapter, is laden with heavy vocals yet there is also a quickness to the sound. A nice combination, actually. The band sites influences as being quite broad with all the members, but there is a predominant 80s goth, pop and punk influence. Steve Jennings (bass) feels that the broad influence helps the creative side of songwriting, but he personally enjoys the lost dark sounds of the eighties, as well as post punk bands such as "The Lords of the New Church" and "Joy Division"; and as for newer stuff he lists bands such as "NIN", "Garbage" and the new "Cure" album (bloodflowers) to be among his current favorites.

This is an easy CD to listen to, with a pleasant flow. It reminds me of a stormy night - especially the final track, "In Transit", which is one of my favorite tracks. This track begins with sounds of the wind, followed by chimes and exotic vocals. I asked Felix (vocals) about the interesting lyrics in this track, and he replied, "The lyrics are Polish...Simply translated: Beautiful Darling....I love you." I also wanted to know about the chime sounds heard in this track, and Steve replied, "The Chimes were created with synthesizers. Jeff Croall plays a Roland JV80 and Stacy Latta used a Korg Trinity on 'Time of Faith'."

I sensed a correlation between the songs "New Emotion" and "In Transit" with the use of the rain/storm sounds to begin both the tracks. They seem to sort of flow together, as "New Emotion" ends in rain, "In Transit" begins with wind. Felix states that the tracks do flow nicely together, but he ads that this was done with no forethought. "They just really flowed well together...in retrospect...it is interesting that New Emotion is about losing hope in a relationship and In Transit speaks of undying love". Steve adds that the songs back to back create the mood and setting for the CDs droning almost fading climax.

Another favorite track would be " Fade", which has a wonderful guitar part and formidable vocals. I asked Felix about the guitar part. "The guitar tracks on the CD were performed by Dean Owens as a favor to the band." He added that "Fade" was one of their more aggressive songs, but "Blinded" is probably the craziest live. Steve replies, "The guitar work on "Fade" was written by myself and former guitarist Dean Owens. Dean recorded the guitar parts on Time of Faith before we parted ways with him in December of 1998."

On the immediate horizon for The Winter Chapter (out of Santa Clara, Ca) is a show in Ft Worth, Texas, with Beyond Hope, Kill Sister Kill and Replicate; and helping usher in a new Playstation game in San Francisco. They are also planning for Europe in late Summer, and Mexico in the near future with Radical 103 fm.