Reel Big Fish
Everything Sucks (Mojo Records)
By: Alex Steininger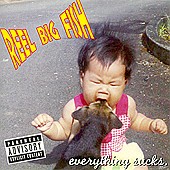 Sugar pop-ska act Reel Big Fish are in the studio recording their forth full-length album. In the mean time, they wanted to tide fans over with a re-release of their debut album, Everything Sucks. Now there is a reason this thing has been out-of-print and hard-to-find since the band's major label debut ("Turn the Radio Off") became the popular ska craze album it was. That reason is the album sucks. It's a raw, loose, and demo quality album that shows the wacky RBF kids playing their hearts out, having fun, but serving up quantity over quality (there were originally eighteen tracks and a hidden song on the original release of this album).

But, on the flip side of the coin, if you're a fan of the band, you'll enjoy this album for its historical value and proof that the band did indeed progress on later recordings into the pop-ska fun act they are. And, of course, the fact that the band got tired of everyone asking them how to obtain a copy of this album and if they were going to re-release it (i.e. demand of the fans) convinced them it was time to re-release the darn thing. A few bonus cuts ("I'm Her Man" and "Super Hero #5"), some added artwork and liner notes in the CD booklet, and enhanced CD features make this a re-issue RBF fans will definitely want to get.

If you've heard the band's two Mojo Records full-lengths ("Turn the Radio Off" and "Why Do They Rock So Hard?"), then a lot of these songs will sound familiar to you. "I'm Cool," the fucked up hidden track on "Radio" starts this thing off (without the studio destruction of "Radio"), "I'll Never Be" finds the band delivering a lo-fi pop-ska dance number, "Skatanic" is as quirky as ever, and "Say 'Ten'" is still a funny, tongue-in-cheek knock on vegetarianism. But, instead of the high-octane version you'll find on "Radio" the band comes through with another demo, lo-fi ska version. "Fuck Yourself" (renamed on "Radio" as "All I Want Is More") is a bit more pure - angst-driven, still tongue-in-cheek, and raw enough to have the emotions not drown in the slick pop that would later follow the band.

Basically, the tracks that have been re-worked, re-recorded, and pumped up on later RBF releases are far superior to the cuts on this album (with the exception of the raw emotions of "Fuck Yourself"). Tracks that you'll only find on this album, however, like "Hate You," with it's angry "Hate you, fuck you, leave me alone" chorus and roaring pop-punk blast and fiery horns, will make this album a diamond in the rough sure to make you smile.

Fans of the band need this album to know where the songs came from and to hear how they developed. Though, don't let it be a first experience to the band. The songs are funny and entertaining, but don't have the muscle of the later versions. I'll give this album a C+.