Speedbumps
Crayon Box (Cheese Chump Records)
By: Alex Steininger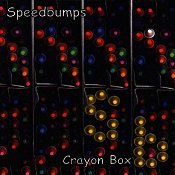 Myrtle Beach, South Carolina's three-piece folk-pop act Speedbumps deliver thoughtful, easy natured folk music with good humor and simple pop hooks on Crayon Box . The album is relaxed and plain, feeling as if the band is in your front room practicing for the big gig tonight and having fun while they entertain family and friends.

"Real Woman" is blends a soulful voice and a seductive slight-funk vibe with the band's folk settings, giving you a subtle, gentle song to sit back and smile along with. "Free" finds the band delivering a groove via the rhythm section, soft folk via the acoustic guitars, and an overall centerpiece. Then there is "Crayon," another simple, easy-going number that flows softly through the air while the band relaxes your body and puts a smile on your face.

The music is warm, the songs are peaceful and entertaining, and together the band finds a plateau to work on that is both delicate and fresh, while also poppy and filled with enough grooves to make you feel what they're doing. I'll give it a B.