Slowrush
Volume (Epic Records)
By: Alex Steininger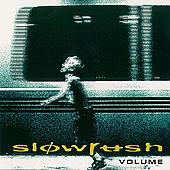 Formerly known as Generator, Portland, Oregon's dark pop-rock quintet Slowrush are back with a new name and an enhanced sound. Fusing elements of industrial and electronic rock with your standard hard rock and pop formulas, Slowrush serve up a dark, heavy pop sound that has its moments.

The band doesn't hit you with a feeling of originality (despite their hybrid style), but they do the generic hard rock-pop attack better than the majority of the bands out there. Cuts like "Junkie," the band's first single, which is already receiving airplay, at least in the Northwest, and "Star" find the band delivering solid pop with pounding rock. The outcome is a rock 'n' roll balance that has you singing along and feeling the rhythm.

This is the exception, not the rule though. A lot of times the band delivers stylish rock 'n' roll with overly forceful pop, leaving you craving something more - something like "Junkie" or "Star", again. But, there is a good portion of songs on here that will keep your attention. The band shouldn't be completely scrapped or given up on. Granted, more than half of the album dwells in mediocre modern rock territory. But, for the moments the album doesn't, it glitters with sparkling pop you'll really enjoy. I'll give it a C.