The Ramon Bermudez Group
Fuego en el Alma (Aqua Fria Records)
By: Alex Steininger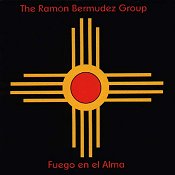 Ramon Bermudez, Jr.'s latest, Fuego en al Alma is an inspiration piece centered on Bermudez's guitar playing. Heavy on the South American sound, the album is a trip across the border and into the heartland of Mexico and South America, as Bermudez, through music, gives you a history lesson of his culture and upbringing.

"Mueve Tus Pies (Move Your Feet)" finds Bermudez's guitar taking you down a dusty road in the heart of South America as you cruise around and observe the people, the culture, and the lifestyles that surround you. "Gracias a Dios (Thanks to God)" is Bermudez's thanks to god, a touching, warming piece that, although I couldn't understand a word, is heartfelt and touching. "Un Toque de Amour (A Touch of Love)" is a slow, vibrant song that steadily moves, making you feel every subtle gesture and move, touching you within, and making you warm and happy inside. Then there is "Tension," an upbeat, bouncy song with Bermudez's guitar sparkling while the rhythm section keeps the grooves, and you, moving.

This is quite the album to put on in the background, have a nice, quiet dinner too, and enjoy the night sky with. It is relaxing, heartfelt, and touching in a way that music seems to be lacking these days. This is the real stuff. I'll give it an A-.