INTERVIEW: Exceed 6 Doses
Texas based Electronic duo (Exceed 6 Doses)
By: Sonya Brown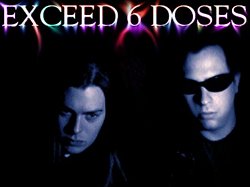 Out of Dallas, Texas, comes the electronic duo Exceed 6 Doses. Charles Macollick (vocals/production) and Jayseon Cameron (keyboard programming/production) are the forces behind the electronics, and they have brought their music to several venues in the Dallas/Fort Worth area. For those of us who do not live near the Dallas area, their music can be accessed via their website located at http://sites.netscape.net/bandexceed6doses/homepage.

Their present EP consists of 5 tracks dealing with subject matter relating to their fascination with supernatural phenomena and mysteries of the unknown, yet they also have about 22 songs that are complete and ready to go for their full length CD. They are going to wait for label support for their CD, "but that does not mean that our fans won't get music, if they want it we will send it ... we respect our fan base", says Jayseon Cameron. The tracks on the EP are: "Those Things You Never Do!" , "Crash2000 (Kiss Your Ass Goodbye Mix)", "Fallen Angel (Dirty Whore Mix)", "Forever Haunted!", and "Those Things (Straight To Hell Medly)".

E6D seems extremely dedicated to their fans, and have stated that the goal is put out good music to expand peoples' ideas, and to give a new creative outlook on how music can be written. Jayseon states, "Dark is Good, And Light is Good; both sides have its potential to be a powerful source of feeling. Death is only a passage-way to freedom.... and freedom is the way you should live your life. No one controls you. You control your own destiny." He adds, "If you ever feel that time in your life when nobody cares, or your loved one shit all over you, and the world has let you down, and you hate everyone. Just remember we care... That's why we write the music. For you..."

I noticed a particular theme running through this EP, so I asked Jayseon if these tracks have any relationship to each other. He informs me that all of the songs (except Crash 2000) are related, in that the medley at the end of the cd has a darker scenario of the first song. He states that "Those Things You Never Do" has to do with the dark and intentional lust between a man and a women, with the woman being a somewhat loose individual of her ways; and a man with dark intentions of killing her. ... but both will act out the two instincts that they know well, by opening the doors of their own voyeur hell. With "Fallen Angel", the same individual is a serial killer who finds his way in killing hookers...his repentance is only by making sure that his disease is cleansed by killing the filth that makes him what he is, an "I won't stop till I kill every whore" kind of a jack the ripper fancy.

I also noticed what sounded like a heavy Depeche Mode influence in their music, so I asked about that as well. Jayseon states, "well I would have to, say yes ...I have met everyone in the band except David...and I must say that they are one of the more talented individuals of our time. Alan Wilder is an Individual that needs his due credit. Some day, as E6D, I hope that we can reach our listeners like Depeche Mode has. Most of all my good memories had something to do with a Depeche Mode song playing in the background. Same goes with Charles, we both have seen many fast fashions in our time....and some of our favorite songs are "Here in This House" "Not tonight", "My Secret Garden", "Told you So", "Leave it in your memory", "In your room" (very sexual), Ah hell I like them all ........who am I kidding.....!"

While E6D is currently based in Dallas, Texas, I'm sure we will be hearing more of this band in the future. You can email Exceed 6 Doses at [email protected] - and be sure to visit their website as well. I'm looking forward to their future projects.