The Camaros
Dangergirl (Stupid Records)
By: Alex Steininger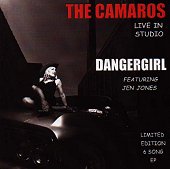 New York-based Jen Jones and The Camaros fuse swing music with early 50's R&B/Jump blues and American Roots/Rockabilly, kicking out some of the most swinging rock you're likely to ever hear. Jen Jones' stunning, captivating voice is sweet and potent, having you fall in love at times and serving up lethal blows the next. On their limited edition 6 song EP, the band showcases their back-to-the-basics roots rockabilly sound, giving the R&B/Jump blues and rockabilly more light as the swing takes a backseat and serves as merely an appetizer.

"Drive" opens up with some sweet swing backed up by ample rockabilly grooves. The sparkling guitar licks slide over the bouncy rhythm section, while Jen Jones' voice empowers female listeners and reels in the males. "Take Me" gets you jumping as the band dives right into some 50's jumpin' blues. The horns get your body moving, but it's the teamwork of the rhythm section and the horns that keep it moving. And, of course, Jones' winning vocal performance.

"When I'm In Love" and "Am I The Girl" are two more examples of how this band gets you swinging and dancing with their genre-crossing style that gets more enticing with each minute that passes. Of course, the closer, "Dangergirl," is the real prize of this album as The Camaros travel through spy territory with surf-blues grooves that will find you entrapped and loving it. A song destined to become an anthem for something.

This six-song EP is a dangerous tease. It makes you fall in love and then just ends. But, hey, you do get some great tunes while the fun lasts, so you can't complain about that. I'll give this a B+.