Slink Moss
Legend (Waterdog Music)
By: Alex Steininger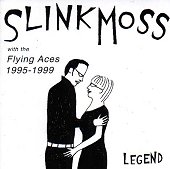 The founding member of the now-defunct Midwest cult band The Farmers, Slink Moss' latest, LEGEND, is a collection of eighteen cuts covering new material, b-sides, and rarities. Using elements from a variety of influences, LEGEND jumps between country, rockabilly, pop, garage, and simple rock 'n' roll.

"Life Is a Chain" gives you a taste of country through Slim Moss' eyes, while "Good Groovin'" splits some hair with some garage rock gone pop. "Rose" furthers the pop sensibility of this album and "Jane" explodes with massive pop grooves sure to get you dancing, jumping up and down in excitement, and singing along with ease. The hooks are tremendous and the easy-going, simplistic quality of the song just hit you as hard as they can.

Yet, it doesn't stop there. "Shadow" finds Slink Moss dabbling in the sweet sound of pop from the golden era of rock (the 60's), "Faith" adds a quick dance to your step with its tempting country slide and all-too-enjoyable pop beats. "No True Love" and "Super Star" offer a bit more to feed off of; perfect to dance too.

This disc bounces around without ever thinking twice, while also managing to give you pop everywhere you look. Here is some great hooks you'll really enjoy, as well as some cuts that will make you want to get up and move. I'll give it a B.