Al Rose
Pigeon's Throat (Water Dog Music)
By: Alex Steininger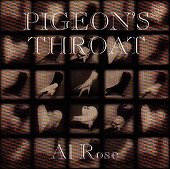 Illinois' Al Rose takes folk music, rock 'n' roll, and pop and breaths his own life into each of them on his third full-length, PIGEON'S THROAT. A collection of intimate, introspective songs, Rose travels through his own feelings while dishing up something for the listener to enjoy.

"Lincoln" opens up with an emotionally drained, tired pop sound that still manages to get its message across with a tight pop kick, a folk underlining and, most importantly, Rose's rock solid lyrics. "Fish Tale Blues" finds Al Rose and his backing band cruising over folk with some southern rock 'n' roll. "Lighter Than A Feather" fuses a light percussion brush with a drippy guitar and two vocals (male and female); the outcome is a toe-tapping back porch humdinger. Then there is "Day of Rest," a tender, introspective piece about losing someone close to you.

Al Rose's latest has its down moments but, for the most part, is able to keep you entertained throughout with well thought-out lyrics and an honesty that shines through in every note. Here is a good, down home album you'll enjoy. I'll give it a B-.