The Minders
Cul-de-Sacs & Dead Ends (spinART Records)
By: Alex Steininger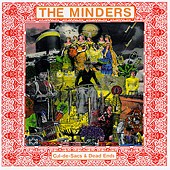 If you're familiar with the Elephant Six Collective, then you're familiar with The Minders. If you're not, well, it's time to ask yourself, "Where have I been?" The Minders, along with The Apples in Stereo and the complete Elephant Six Collective, are bringing back the classic British sounds of the 60's. You know, when pop music was completely addictive, had substance, and was fun? It was real, you could enjoy it, have a blast, and still be hooked in and want to come back time and time again.

Well, New York-based indie spinART, who put out The Minders debut full-length (HOORAY FOR TUESDAY), have collected all the Elephant Six singles, as well as a few other various singles and compilation tracks to assemble this seventeen-track collection of Minders rarities and out-of-print material. The Minders have even added several new recordings and unreleased cuts to complete this compilation spanning their brief (yet amazing, and hopefully long lasting) career. The result is a 60's pop fanatic's dream: hook-filled, bouncy pop with an English accent and American rock 'n' roll influences.

"Build" finds frontman Martyn Leaper and drummer Rebecca Cole, the core of The Minders, dishing up a minute and thirty-second song you'll never forget. It's rhythm section is bouncy and happy, playing melodies that smile, and place a smile on your face, next to words you can easily sing along too (and you'll want to, too!). All the while Leaper's voice entangles you in the song, making you feel as if he has been your friend for a long time and he's singing you this new track he just wrote to get your approval. But, this is normal for a band like The Minders, whose songs average around two minutes, three minutes being on the long side. Each one is undeniably catchy and crisp, taking you back to a time when rock 'n' roll was all about having fun and enjoying yourself, with no pretensions or dreams other than writing good songs and making people smile.

I could go through this album and list the tracks, telling you how each and every one of them were completely amazing, though since that is every track on this album, I won't do that. "Now I Can Smile" will have you bouncing up and down in glee, "Bicycle" will get you dancing, and "As Good As You Are" will have you singing along with its nonchalant melody that seems to come so naturally from the band to you. "Rocket 58" and "Almost Arms" are two more choice cuts, just as addictive and long-lasting as all the other tracks on the album.

The Minders bring retro pop sounds to the future, paying homage their influences, while doing their own thing quite well. Here is an album that is timeless and precious, one that isn't just about trends or a musical stage you're going through. You'll look back in thirty years on this album and love it as much (if not more) as the day you first heard it. I'll give it an A+.