Tom LoMacchio
Five Years Later (Linkwork Records)
By: Alex Steininger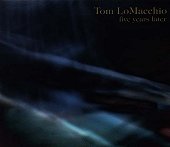 On his latest solo offering, Tom LoMacchio goes beyond the guitar-only solo offerings of the past adding piano, cello, synthesizers, and drums into his faint, intimate song structure. FIVE YEARS LATER is quiet and soft, though sometimes lush and beautiful, ensuring the songs are very intimate as well as casual.

"Introduction" is an instrumental. An emotional guitar gets louder and louder as the song builds, leading you into "Apart," nature-sounding acoustic piece that is as ripe and fresh, as well as beautiful and refreshing as a forest on a warm, sunshine-filled day. "A Sullen Nights End" is an eight minute song that starts out with tear-dropping piano notes that soon break into the tender string arrangements that flush out LoMacchio's voice and bring you to near tears as the beauty and sensitivity reign throughout the song.

"To See Behind" finds us relaxing to more of LoMacchio's soft guitars and tender, very shy voice. The title track is a very quiet, almost hard to hear piece that just keeps the emotion and warm-hearted sounds coming. "Three Guitars," a guitar instrumental, closes out the disc with three guitars providing a soothing finally to a very emotionally centered piece.

Though LoMacchio may not be the only one doing what he is doing (there are plenty of other people playing singer-songwriter music just as faint, sincere, and emotional as this), somehow LoMacchio stands out above all the rest. With his lush instrumentation (including piano and strings), LoMacchio goes beyond the beaten-to-death guitar and voice craze as of late and propelling himself into a new category of singer songwriters. And, though the music isn't infectious or very hook-driven, again, with his emotion and gentle-ness, LoMacchio brings you in to his world. I'll give it a B.