Fastbacks
The Day That Didn't Exist (spinART Records)
By: Alex Steininger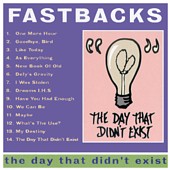 Twenty years and still making music? Lots of bands have gone and went, with their first, second, third or more offshoot bands dead as well. But, you can't kill great rock 'n' roll, and nobody knows that better than Seattle's Fastbacks, who just keep writing poppy rock songs over and over again. The lack of the commercial success they should have received over the years hasn't stopped them either, as THE DAY THAT DIDN'T EXIST proves. A tight power-pop-punk album filled with fourteen should-be-classic tracks, here is a band and an album that everyone should be exposed to (and you can't say that about many artists).

A concept album about "The Day That Didn't Exist," "One More Hour" starts the album off with some fast, blood-pumping pop music lead by Kim Warnick's tough girl vocals that are as much punk spite as they are curious. "Goodbye, Bird" reels you in with an amazingly addicted chorus and an even more fist-packing chorus that just beats you over the head with glossy, yet rough power-pop-punk melodies and a tremendous rhythm section. "As Everything" and "New Book of Old" just keep the tight, infectious, very well developed power-pop structure coming with punk fury and grace.

"I Was Stolen," "We Can Be," and the title track are a few more choice cuts off this album. But, really, all fourteen tracks are top-notch, sugar-and-gin pop nuggets that can't be denied their infectious, addictive status. Though, the band does write similar songs in the Fastbacks style that just doesn't change, the songs manage to never sound the same, without really being all that different.

This band is amazing in so many ways. They are, well, almost like the ideal band withstanding twenty-years of the ups and downs of being in a band, writing great music time and time again, and keeping a style and sound (much like The Ramones) throughout their career. Here is a band that simply kicks ass. So, if you haven't already, do yourself a favor and check them out. Then act really cool and expose a friend to them. You'll never look back. I'll give it an A+.