Chokebore
Black Black (PNMV)
By: Alex Steininger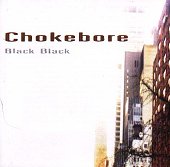 This four-piece outfit crosses between indie pop and heart-on-the-sleeve emo. Their music drags you through the deepest ditches of their emotions, as they take you on their own little journey filled with distorted pop music aplenty.

"Speed of Sound" and "Sunshine of My Life" are two prime examples of what this band is all about. The vocals mumble and stagger through the words with a shy, nervous quality that brings the emotional feel the forefront, while the sly, confident portion of the vocals push the song along with a breathy, drunk quality. The music is poppy and very indie rock, sometimes light and airy, and sometimes filled with plenty of distortion and muscles to push along quickly and make its move.

"The Perfect Date" is a rocker. The vocals are more confident and don't really slide around with the emotional touch. Instead, they move around with a powerful, moan-scream that gives the song a jagged edge. "The Sweetness" is a dreamy, quaint pop ditty that is all about getting inside your head and creating a sweet, surreal trip for you to travel.

Whether they're rocking or taking you on a pretty trip, Chokebore's mixture of emo-rock and indie pop helps the songs dive between bold and sweet, a lethal combination that will play with your mind and, in the end, most likely hook you. I'll give this a B.