Moonspell
The Butterfly Effect (Century Media)
By: Alex Steininger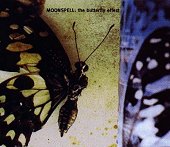 Portugal Goth-metal act Moonspell dish out the venom on their third full-length. A collection of heavy, angry visions and a trip through the band's twisted, collectively warped mind, you, the listener, are quickly attacked with metal that can't go all the way and Goth music that seems to want to lean towards metal for more power.

The best metal is fast and hard-hitting. But here, the metal is toned down with Goth. On the flip side, the best Goth is the kind that is slow and methodical, attacking you with what is not there, rather than with what is. Here, once again, they fail. Their music tries to bridge the gap, opting for powerful Goth and watered down metal to break your senses. The outcome is a weak, angry, yet no energy album.

This album just didn't do it for me. It seemed lacking in every department except anger. And, although anger is a beautiful thing, it can't be the only thing that drives the album. I'll give it a D-.