Marilyn Manson
The Last Tour On Earth (Nothing/Interscope)
By: Alex Steininger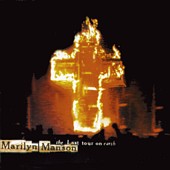 Some of you are saying, "It's about fucking time!," while others cringe at the idea of Marilyn Manson putting out another album, let alone a live one. Well, it's here, and we all must deal with it. The shock-rocker media whore pushes the right buttons, knows how to piss the wrong people off to maximize the right press, and his dark, industrial-fueled hard rock is just what the disgruntled teens ordered. So, as he sells himself and says what people expect and want to here, he'll always be here selling records and giving the misanthropic teens what they want: loud, anti-Christ rock 'n' roll that doesn't conform and 'understands' them like nothing else out there.

Picking selections off their various platinum releases, Marilyn Manson serves up a whole lot of what the kids want. Whether it's the boring in-between stories and banter of songs like "I Don't Like The Drugs (But The Drugs Like Me)" where Manson discusses a dream he had about drugs, god, cops sucking his dick, and god's decision to spell god "D-R-U-G-S". Or, the heavy, distorted, pounding rhythms and in-your-face, razor sharp guitars of industrial roaring hard rock like on "The Reflecting God," Get Your Gun," "Rock Is Dead," "Lunchbox," and "The Last Day On Earth." Rather, every single cut on this disc, Manson has the fans eating out of the palm of his hand and proclaiming him as their leader.

Though, Manson does tone it down a bit for their cover of "Sweet Dreams," though even this comes across loud and abrasive live. But, you know what, for all the corporate hype and created personalities this band has served up to sell themselves, they do have the anger and smarts to pull it off successfully time and time again despite its repetitive, should-have-died-along-time-ago tiredness, and oh-so-predictable shock value. So, for that, they deserve credit. And, truthfully, I was even getting into this album now and again, because every once in awhile they'll stun you with a hook or melodic bar that you weren't expecting with all the noise they create, and it reels you in the for the kill. I'll give this album a B-.