Long Beach Dub Allstars
Right Back (Dreamworks Records)
By: Alex Steininger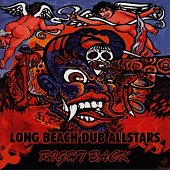 Bud Gaugh and Eric Wilson are RIGHT BACK, as the title of their debut full-length with their new band, the Long Beach Dub Allstars, suggests. Gaugh and Wilson are best known as the rhythm section for the multi-platinum, genre-hopping, infusion crossover act Sublime. With the same commitment to diversity and genre hopping, the Long Beach Dub Allstars infuse the flavors of Sublime (which fused punk, ska, reggae, dub, pop, rock, and hip-hop into their melting pot music) while, as their name also suggests, concentrating on dub. Fans of Sublime will instantly take notice to the respect these fans of music pay to music, giving all their influences ample time in the spotlight. And, though the band often possesses uncanny similarities to Sublime, two-thirds of Sublime is present in this 7-piece band, so that should be expected.

Light up a joint, kick back, and let the Jamaican sounds sooth your soul. "Righteous Dub," featuring Barrington Levy, does just that for you. It allows you to sit back, close your eyes, and reap the effects of a good high - naturally. The music is its own joint, lighting itself up when you play it and taking you away to a far away land that only soulful, pure music can take you to.

"Fugazi" adds the Sublime charm to the standard dub LBDA build on. Adding elements of pop and rock 'n' roll, the dub not only takes you away to another place mentally, but also finds you singing along and absorbing the warmth and power that surrounds the music.

"Kick Down" takes the hip-hop to the forefront while the jazz and funk intertwine in the background with the dub. Filled with grooves, the rhythms will find your body shaking and moving to every note, while the song echoes around in your head with its infectious presence too powerful to avoid.

Another fine example of the band's ability to infuse reggae, punk rock, and pop into their dub is "Soldiers." A rock presence molds with the reggae grooves and a happy middle ground is met as you sit there, both dancing and rocking.

I wasn't sure what to expect. Was LBDA going to try to sell themselves off of the Sublime name or were they going to carry on the Sublime legacy? One thing is for sure, after listening to this album, it is evident Sublime was more than Brad Nowell. It was a band, just like LBDA is. And here is the proof. I'll give it an A-.