Suplex
Radio Transport... Are You Leaving? (M-Theory Records)
By: Alex Steininger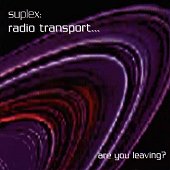 Portland, Oregon's Suplex is a four-piece that blasts out noise-space-pop with plenty of hooks, fuzz, and distortion to keep rock fans' appetites satisfied. On their EP, RADIO TRANSPORT... ARE YOU LEAVING?, the band rockets through catchy space pop sure to swirl around in your head for some time.

The opener, "Failed Limbs, Limbs Failed: Systems 60!" takes a pop song, fills it with rocket fuel, and blasts it into space. The fuzz swirls around the song, giving it a few layers of complexity, while the standard pop song structure beats underneath. "Space Opie" furthers this feeling by throwing emo into the mix. The fuzz still swirls around the song, but underneath it this time beats the heart of an emo number. Still, the band revolves around pop like the earth revolves around the sun.

"Speaking Dolphin pt. 1 [The Great Adventure]" finds the band further exploring their space and noise roots, taking the pop out of the song. Orbiting a new solar system, the eerie guitars buzz while the added noise trips out your mind and sends you on a head trip.

"Sensory Device" brings the rock back into the picture while "We Tilt pt. 2" once again finds the band reaching deeper into their space and noise sounds.

If you're looking for a quirky pop band that isn't afraid to explore and challenge themselves, Suplex is the right pick. They're songs often revolve around pop, but they're not afraid to abandon ship and try something new once in awhile either. I'll give this album a B+.