The Faint
Blank-Wave Arcade (Saddle Creek)
By: Alex Steininger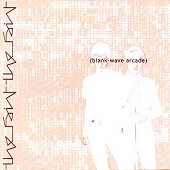 New wave, synth-driven pop music, The Faint take us back to the 80's in sound with 90's style all the way. They rip through catchy, pop new wave with precision, leaving behind the past and forging ahead with the future. Yet, their music seems so in tune with 80's MTV and radio. Out of place in the 90's, needless to say. But, somehow, they make it work, and work you it will.

"Sex Is Personal" is a dark, haunting, yet addictive nugget of synth branded pop while "Worked Up So Sexual" is an ample rock, quirky chunk of pop that still possess the dark synth sound, but moves along with a very upbeat, unforgettable melody. Of course, then there is "Casual Sex," (You can tell what is on their mind, or should I say mine?), a hardcore track that blasts through walls of noise before switching back to the usual, addictive synth pop they make sound so out-of-place and desired.

The Faint may not be in-line with trends, but that doesn't seem to be a problem with them. The music is what matters, and they seem more content visiting re-writing the 80's than trying to fit in with the 90's. That's fine, especially if you're able to write songs this catchy. I'll give it a B+.