INTERVIEW: Shun
Amish Rock
By: Sonya Brown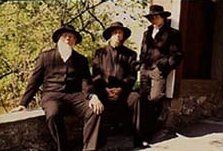 Halloween. What better time to catch a performance of the "Amish Rock" band known as "Shun". Shun consists of 3 wayward Amish boys, "Shunned" from their community in the heart of Pennsylvania for their love of music. A type of music strictly forbidden by their people. Well, so that's what their manager, Vinnie Cleanhands, says anyway. Are they for real? Is this some sort of sick twisted joke? Ahhh, but it's Halloween and we can be any damn thing we wanna' be.

If you do dare go see this band live, be prepared for some rather interesting observations & revelations. Also, be prepared to be amused and bewildered. I guess Amish HELL Rock would be the appropriate term to use, as described in the website located at http://home.earthlink.net/~amishrock.

To help the believers (or nonbelievers) make up their minds about Shun, I decided to ask them a few questions.... which wasn't easy. According to Vinnie, some of the Shun members are quite stubborn, and are still against the idea of interviews. With that in mind, here are a few of the questions I asked those bad boys of Shun:

Q: Who is in the current Shun Line-Up?

A: Justus B., Judas C., Laz. L.

Q: What are some thoughts regarding the juggling of the simplistic life vs that of rock stars - and other associated problems that might cause.

Judas: We do not juggle.

Q: So do you basically write your own music as well as churn your own butter?

Justus: Why are the english so interested in how we make butter. Do the english not make butter? I want to know how the english make margarine.

Judas: Yes

Q: Drawing attention to ones-self is not acceptable in the Amish community, yet your love for music brings you out to the clubs & has caused your exile. Haven't you ever wanted to just shrug off all that guilt & join in to the more mainstream society? And speaking of not drawing attention to ones-self, don't you think those outfits you wear do just that?

Justus: We do not like english society and wouldn't want to join it. We like our way of life, it is the one we were born to live.

Laz: We separate ourselves from the english every minute we are alive except when we are playing our shows, and even then there is a seperation between us and the audience.

Q: Is it true that the Amish have no zippers?

Judas: I have visited english libraries and find that there are many books about our people.

Q: Do you grow any herbs on the farm?

Judas: yes

Justus: I don't see why the english are so interested in what I grow on my farm.

Q: The amish seem to believe that too much wisdom is poison, and most children have an 8th grade education. Do any of you have a higher education than that?

Justus:Some of us have attended english schools. It is english schools that have taught us to distrust the english.

Q: Would you rather be plowing in the fields, or getting plowed at the clubs? Are you allowed to get plowed?

Justus: I do not like going to clubs when I don't have to. They usually close about the time I like to get up in the morning.

Judas: Yes

Q: Do you have any chickens?

Judas: yes

Justus: Chickens are a filthy, stupid, and violent animal. Since I no longer live on my parents' farm I choose not to raise them...

Q: What are some of the names of your songs?

A: Rumspringe, Intercourse Girl, Shunned, Girls in Bonnets, Kuhen, Amish Junkie, Raveen.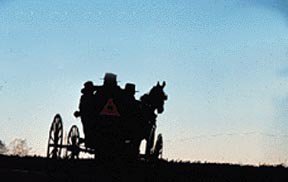 Q: Are any of you married? w/children? Isn't that very important - to raise lots of kids to help out on the farm? Will they be allowed to listen to your CD's? Do you own a CD player? I understand that while owning individual phones is not acceptable, a community phone is often allowed. Perhaps a community cd player is in order?
Justus: I enjoy playing the music I write. I have been told that recording will allow me to do this more often, and I will get more English money if I do this, so Shun will record, but we will not listen to the recordings.
Judas: No, No, No, No, No, and No.
Q: How does your manager, Vinnie Cleanhands, get ahold of you? Since you technically can't own vehicles, does he do all of the driving? This must be a huge task as a manager, to have to handle all these aspects of your careers, how does this work out for you all? He must be very dedicated.
Laz.: I do not trust Vinnie Cleanhands.
Judas: Vinnie Cleanhands visits us periodically bringing us these schedules that make no sense, therefore we must constantly ammend them. This frustrates him. I love to frustrate him. I think he is a good man but he does not understand that we do not want to do certain things that he thinks are good for us. It is very difficult for the english to comprehend this.
Justus: The man who owns the property we live on drives us to the shows. Vinnie Cleanhands just drives the equipment. He owns the electric equipment that we use for shows. It is very nice of him to let us use it since we have only acoustic instruments. Unfortunately, Vinnie 's equipment is not made by our people and breaks frequently. He also brings us mail and these silly schedules.
Q: At your recent Halloween show, I couldn't make out all of the lyrics. Do you intend to have printed lyrics at your web-site or included with your cd? Can you give us any samples of lyrics now?
Laz.: What is this word: "web-site"?
Justus: My grasp of the english language is still not firm. That is probably why you cannot understand the words. Many of the songs are in our language and we haven't taken the time to translate them yet.
Q: Is "stoning" ever done in the Amish community? If so, have you, or anyone you know, ever been stoned?
A: As fallen Amish, we have all been stoned.
Q: Are there any final thoughts or comments you would like to add?
Laz:No
Justus: No
Judas:So, we are done then?