The Hot
Not For Sale (No Alternative)
By: Alex Steininger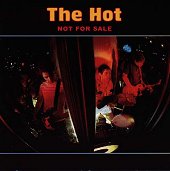 Crazily infectious and packing a 1-2-punch hook after hook, The Hot, comprised of three mainstays on the Minneapolis scene, maneuver through solid pop-rock with fire. Their melodies are sweet and enjoyable; the force behind the music is fierce and powerful; and the mood is right for some pop music that will blow the mind.

"Crazy" is a pop-rock ditty filled with hooks and excitement, but doesn't suffer from the tiresome drag or lack of energy that many pop-rock songs usually do. Some may even want to refer to the music as power-pop, or a handful of other descriptive terms used to pigeonhole music. But, the truth is, this is good rock 'n' roll that met good pop and formed music. So, it seems only fitting that pop-rock, for a lack of a better term, should be used.

"Have You Seen (the Way I'm Livin'?) dives even deeper into the rock foundation that seems to hold this band together; but it never lets go of the pop structure, which the band uses to keep you attentively listening. The guitars are striking; the drums hard-hitting and filled with energy; and the bass, of course, is never lacking.

"Party's Over," the album closer, is a heavy-hearted rocker. It's got the heavy rhythm section that all the other tracks have as well as the attention to pop details (gentle vocals and plenty of hooks). It's a little bit of a downer though, but still seems a fitting end to a solid six-song EP.

Bryan Hanna, the drummer for the band, as well as a noted producer around town, has worked with other Minneapolis stars like The Hang Ups, Papas Fritas, and another super group, Golden Smog. Though I wouldn't put them in the same category as Golden Smog, they still have a great ear for pop and a burning rock drive throughout. And with those two elements in place, the music can't go wrong. I'll give it a B.