Three Finger Cowboy
Hooray For Love (Daemon Records)
By: Alex Steininger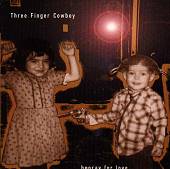 A four-piece from Birmingham, Alabama, Three Finger Cowboy play indie rock with a great ear towards the pop side of things. Their music has the hooks, balls, and bite to really get into, while also carrying enough spite to help you release your aggression with.

"A Foot of Snow" is a distorted, fuzzy pop song with a strong indie feel. But the main focus of everything is the pop melody that drives the song and gives it all its life. Lead singer Katharine McElroy manages to make the music sound pretty and feminine without losing any of the edge the music has. The same goes for "The Fastest Kid In School," a soft, fuzzy buzz of pop music that will has the sharp edges to slice right through you.

The band stays consistent throughout. They never travel off into any new directions or try to cut down new paths; they're content with what they're doing and give it their all to ensure a good, well-rounded song every time. "The Boy Who Can't Win," "Millionaires," and "Feeling Lucky" are all prime example of the band's ability to keep on going with the same, distinct style track after track without making it sound boring or tiring.

They songs are well-rounded, have spite, energy, and a clear sense of direction. The music possesses a rough indie punch but also combines that with some nice pop music. It may take a few listens to get into, but once you've done it, you'll find some tracks you'll really enjoy. I'll give it a B.