Sunset Valley
Boyscout Superhero (Sugar Free Records)
By: Alex Steininger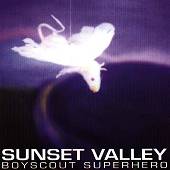 Quirky pop melodies, a twist of new wave sensation, and off-the-wall lyrics that, upon closure inspection, have tremendous depth, Portland, Oregon's Sunset Valley is the pop band for the new millennium. A band that can write infectious, crazy pop ditties, where the songs' ability to get stuck in your head is only the surface of their power, they are one of the indie world's greatest charms. Frontman Herman Jolly has a knack for writing clever lyrics that even further the pop sensation the band lays down. And, on their second album you'll find yourself moving to the madness that is Sunset Valley.

Right when you put BOYSCOUT SUPERHERO in your CD player the band instantly mesmerizes you with "I Got Fair," an overload of pop charm that starts off with Herman's voice taking center stage over a rhythm section that wastes no time in getting your feet tapping and hips shaking. Lines like "I got your number from the bathroom wall in my house/ I never met you at my birthday party/ I was too passed out/ Because I never-ever go out" clue you in to the weirdness, but genuinely genius mindset that Jolly lives in.

"Megapills" keeps the pop momentum coming with lush vocal harmonies, quirky organ notes that swim throughout the song and bounce around in your head, and an amazing attention to detail that ensure you'll always be on the edge of your seat when Sunset Valley shines down on you.

"Happily Frozen" is one of the biggest reasons why their indie status may not stay intact for long and why they're destined to find themselves working towards bigger and better things. The steady flow of sugar and sweets keeps your mind fixated on the ear candy, while substance backs up the pop hooks. They're not a pop band that just writes really infectious songs that go nowhere. Herman Jolly's intense and often hard to follow (unless you really pay attention) lyrics captivate, while the band's ability and talent backs everything up without a hitch.

"City of Bees" shows a more rocking side of the band as they pick up the pace, turn up the heat, and show you just what power-pop means. The same quirky drive is maintained, but this time around the rhythm section lays down a few more beats per second. Herman's voice still spits out the Pixies-inspired lyrics while the double dose of buzz saw guitars roar throughout.

The band's lunacy reaches its peak on "Doll Eating Man," a song that possesses the following chorus: "I am the doll eating man/ I'm needing no garbage can/ Because I consume all the parts/ Even their weak plastic hearts." At first glance you'll have no clue what they're talking about, but the highly infectious pop beats will keep you focused. On closure inspection though, you'll be able to come up with one of several theories of what the song is about. Leave it up to your own imagination, which seems to be the Sunset Valley motto.

"Solid Goldmine" reveals yet another side to Sunset Valley -- the punk side. The verses are fast, wicked, and ass kicking infectious. The quirky, new wave feel hits you hard when the chorus come on, though the sting of the verses will ring for days in your head. No matter how slow, soft, fast, or hard the band plays, they always manage to make the song one damn infectious piece of work that no matter what, you won't be forgetting for any time soon.

Sunset Valley is simply one of the most infectious bands out there today. Few can match their impeccable hooks, madness-drive rock fun, or their sweet melodies. Depth, character, and truly entertaining, Sunset Valley is ready to dominate; I'll give this album an A+.