Speedbuggy
Grand Theft Omaha (All Tore Up Records)
By: Dave Jenison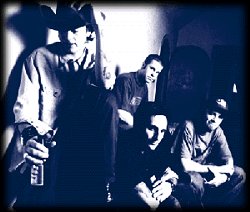 Speedbuggy's new five song EP, Grand Theft Omaha, paints the picture of an exciting new scene that's spinning off from country music. Don't be frightened, it's not Garth Brooks and the Dixie Chicks who are influencing this scene. The Speedbuggy country sound takes the pop elements of modern country, but the style and attitude are pure classic country in the spirit of Johnny Cash, Buck Owens, George Jones, and any other old school folk who would bet their child's college fund on a promising poker hand. Likewise, Speedbuggy's country sound is bolstered by strong electric guitars, a high energy punk vibe, and a hard pounding back beat that gives it a real rock edge. Think a sped up Social Distortion with a twang, or a meaner Reverend with more pop-driven choruses.

Speedbuggy's first two releases - Hardcore Honkey Tonk (on Greg Hetson's Porterhouse Records) and George Owens (on Frank Kozik's Man's Ruin Records) - were both solid releases, but Grand Theft Omaha presents a band which has made a quantum breakthrough over the past year. Cowpunk is growing in the underground, but most of it sounds the same. Speedbuggy breaks from the cowpunk scene by keeping the country in front of the punk, rather than being the mere country-tinged punk that defines most of their peers. Though a few of the songs on the EP are in fact very punk in tempo, other songs like "Big Blue Skies" and "Top of the World" present a more mid-tempo approach to the rock-driven evolution of alternative country.

Grand Theft Omaha will hopefully be the beginning of a breakthrough for country music. In a time when your average country artist has more in common with Matchbox 20 than Johnny Cash, Speedbuggy is taking the style back to its roots but with a punk, pop, and rock twist that promises great success for this fearlessly innovative band and their exciting, progressive sound.