The Silencers
Cyclerific Sounds (Alive!/Total Energy Records)
By: Alex Steininger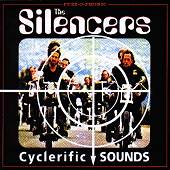 I love rock 'n' roll, don't get me wrong. Real rock 'n' roll with a bite; there's nothing better. But, rock instrumentals have never appealed to me. I've always been one for the lyric twists; the "sex, drugs, and rock 'n' roll" party life style that rock music embodies. So, when I popped in this album and realized the majority of it was vocal-less, I quickly was turned off. Though, I kept listening to find something I might like, something that would grab a hold of me and change my mind. That didn't happen.

The songs are the same fuzzy, hyper-intense beats over and over again with screaming guitars, raging rhythms, and a bit of surf here and there for good measure. I tried to like this album, but it just didn't happen. It started to all blend together and sound the same after awhile, though it is passionate and does rock, so there was a bit to enjoy here. I'll give it a C-.