Meshell Ndegeocello
Bitter (Maverick Recording Company)
By: Alex Steininger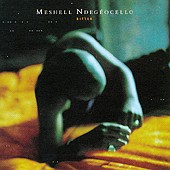 A modern pop masterpiece is the simple way to describe Meshell Ndegeocello's latest offering. BITTER is a collection of twelve of the sweetest, most sincere songs of 1999. The album is deep and rich; jumping with a spiritual essence to it that is hard to ignore. The songs themselves are bold and poignant; instead of getting in your face though, they gently sit there and wait for you to hook onto them, which is inevitable.

The album possesses grace and beauty so mature, you could be led to believe this was Meshell's 10th release rather than her third. "Adam," the opening instrumental, is dark and contemplative. The cellos perpetuate that mood while the light percussion helps back it up. "Eve," the other instrumental on the album, on the other hand, possesses a surreal daydream feeling. As for the non-instrumentals on this album, that is where the real emotions of this album come into play, which is everything but bitter.

"Fool of Me" is a waltz that, although it may be sad, still seems to be optimistic and hopeful, never letting go of the love it lost, but fearing the idea of getting too close again. Meshell's voice is filled with sorrow while the light trickle of music, especially the percussion and piano, adds an intimacy one could only find be getting inside Meshell's own head.

"Satisfy" helps add some happiness to the album with an upbeat, romantic hop to it. It dances and swirls around with a big warm kiss at the end of it. "May This Be Love," a Jimi Hendrix cover, is another rich pop song sure to warm up your heart. The aptly titled "Beautiful" swims around in your head with its laid-back, comfortable take on love and life. Its warm appreciation for all the beauty that surrounds us in life is positive and motivating, speaking to you to ensure you appreciate everything that makes life worth living.

Meshell Ndegeocello once again has released a piece of work so well thought, developed, and rooted in everything she believes and feels that she couldn't go wrong. From start to finish she has you engaged in a personal conversation with your mind and your heart. Like I said, this is a modern pop masterpiece. You can listen to it when you're down, when you're happy, or when you need something uplifting and spiritual to just help you sit back and relax. I'll give it an A+.