John Stuart Mill
Forget Everything (SeeThru Broadcasting)
By: Alex Steininger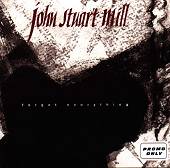 John Stuart Mill's (ex-Brainiac) solo album is a rock record, yet it takes on the shape and appearance of a folk album in the quiet, distant nature of the songs. Speaking softly, whispering, and keeping everything on a very subdued level, John Stuart Mill whips up an album that find you ignoring it at first, but if you give it a chance, just may grow on you.

"Learn the Proper Languages Before You Go To Bed" is an example of the soft, subdued nature of a lot of the album. To distant to really grab you, the song easily floats by without making an impact. Then there is the lo-fi rock of "Eternal Story," which sounds like it was recorded on an eight-track in a tin can. The drums are flat and filled with a tin-sounding buzz to them. Though, the melodic underline of the song saves it and gives you a little bit to grab on to.

"Now and Forever" is another tin can rocker; "Don't Forget To Write," on the other hand, is a soft acoustic number that has the same echoing and tin can feel as the rockers. But it is lo-fi, quiet numbers like "Paranoid Fantasies" and "Whiskey Jones" that showcase the true beauty of this album. Too bad they're too few on this album.

Now, the album has plenty of draw backs and can be quite dull at times, but diamonds-in-the-rough like "Paranoid Fantasies" and "Whiskey Jones" give you something to cling on to while you spin the album a few times and give it a deep listen. For some it may stick, however, for me, besides those two songs, nothing really worked. I'll give it a C-.