Michael Aston's Gene Loves Jezebel
Love Lies Bleeding (Triple X Records)
By: Alex Steininger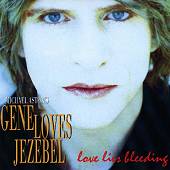 After a reformation and another tour, the twins, Michael Aston and Jay Aston, once again went their separate ways. Back on his feet, LOVE LIES BLEEDING is Michael Aston's Gene Loves Jezebel's latest album. Michael's visions shine without the help of his brother with the outcome being a dark, passionate, slightly-gothic rock record with plenty of fury, optimism, and punch to back it up.

Opening up with the title track, Michael Aston quickly gets to work with some solid rock music that screams with a steady line of rock solid rhythm, a nice stream of guitars, and his painful, sorrowful vocals which remember heartache and torture, but still manage to look forward. "Who Will Survive You?" parallels the title track with the same punch to it. Michael's vocals carry the Goth feeling of the music, while the actual music is in-your-face rock music that has no time to dwell on the past as it is too busy forging ahead.

The rest of the album, tracks like "The Lion In Your Eyes," "Joyrider 2000," and "Sorry (Sugar)," sounds very familiar and distinct, often times to the previous song. However, with enough snap and kick to pull itself out of the hole, Michael Aston turns the similar into a favorable distinction of the music that ensures you know who is singing to you. I'll give the album a B-.