Forrest McDonald
Spirit of the Blues (World Talent Records)
By: Alex Steininger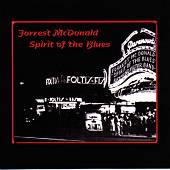 Collaborating and performing together for the past twenty-five years, Raymond Victor and Forrest McDonald form quite the blues partnership. Raymond's voice is experienced, soulful, and gritty, perfect for the blues, while Forrest's guitar work is captivating, sweet, and steamy. On Forrest's latest, SPIRIT OF THE BLUES, they do just that, give you a taste of the blues spirit in multiple doses.

"That's My Baby" is a rock 'n' roll stomper with plenty of jazz heat running through it. "Anchor to A Drowning Man," on the other hand, is a deep blues number that is as steamy as it is spiritual. The piano twinkles while the guitar adds the spices to give the music the punch it needs to really excite you.

The band is exceptional on rock 'n' roll numbers like "Love Me In The Morning," which call back to a time when jazz and rock 'n' roll worked together to soothe your soul and make you forget your worries, opting to have fun rather than depress you. The piano work is amazing, brightening up the song tremendously, while the horns are stunning.

"Take Me To The Country," another strong blues number, proves the band can tap into their rock 'n' roll influences and make you smile and then turn it around to do the same thing again with their blues styles. And, what is even more amazing, they always make sure that it always sounds like them. You're not listening to a jazzy rock band one minute and a separate blues group the next. Rather, the cohesive nature of the music is even that much more amazing.

Forrest and his band, especially vocalist Raymond Victor, keep audiences on the edge of their seat track after track. Quite the accomplishment, especially since they've been working together for twenty-five years. It just goes to show you that a good musical collaboration just doesn't die, it re-invents itself. I'll give this album a B+.