Tej Leo (?)
Rx/Pharmacists (Gern Blansten Records)
By: Alex Steininger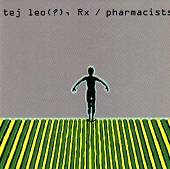 Ted Leo, former guitarist/songwriter for the DC mod/punk band Chisel, stretches his own musical boundaries with a new album rooted in the punk philosophy but surrounded by noise, distortion, sampling, and the pop hook. It is a weird, distant album that seems to have no starting or finishing point, but still takes you on a journey through Ted Leo's own mind.

The album is very hard to get into because of the distant between songs and the listener. The echoing, the hiding behind noise, and the ability to back you into a dark corner are all characteristics of this album. Some songs are better than others are, while some songs are just too weird or experimental to really get your attention.

"The Pharmacist v. the Secret Stars" is a ball of noise wrapped around a pop hook and Ted's voice. It, unlike a majority of the album, seems to have direction. "Walking Through" though is simply just a ball of experimentation that doesn't work. Then there is "The Northeast Corridor," another song that works with Ted's fuzzy guitar and tender voice.

This album is about as close to a roller coaster as an album can get. It has a few high points, a bunch of low points, and a variety of points in between. It is very inconsistent and too experimental to really work with Ted's base of rock and pop. I'll give it a C-.