Hicky
The Proof Is In The Booze (Quivering Submissive Flesh)
By: Alex Steininger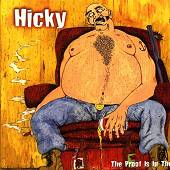 If getting shit-ass drunk, fucking your sister, or bar hopping just to pick the most fights before you fall over because you're so shit-ass drunk are your favorite forms of entertainment, then Seattle, Washington's Hicky is the perfect band for you. With a title like THE PROOF IS IN THE BOOZE, and a great big thank you to the booze in the linear notes, alcohol seems to be the bloodline for this band. And, every alcoholic, redneck, or town bum wanting to save up enough money to get drunk will find their lives detailed on this album.

"Gonna Make You Love Me," "The Kinda Man I Am," "Somebody Loves You," "Drunk N' Brok'n Hearted," "Country Girl," with a bluegrass tingle, and, heck, this whole fucking album are all drunk-off-your-ass, sleazy country songs. A bunch of big city rednecks decided to take their love of punk, alcohol, country, and alcohol and make an album so incredibly fucked up they would sober you up before making you want to get drunk again. And that is exactly what they've done.

The songs aren't the greatest musically, and some of them even sound horrible; the recordings sound muddy and cheap, but the smell of alcohol is so distinct on every track it's hard to pass up. One thing this band is good at is having a good time and it sure comes across in their music. If all the uptight, conservative people of this world would listen to this album, their lives would be changed for good. It ain't the best, but after pounding some hard liquor, you'll really enjoy it. I'll give it a C-.