Richmond Fontaine
Lost Son (Cavity Search Records)
By: Alex Steininger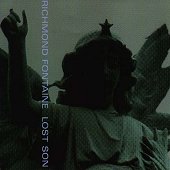 Portland, Oregon's Richmond Fontaine (named after a character in one of lead singer Willy Vlautin's novels) has been labeled a lot of things: alt-country, country-rock, country-punk, etc. But, with one listen to their latest, LOST SON, you'll quickly understand that Richmond Fontaine may fuse country, rock, punk, and sorrow, but they're not a combination of their influences slapped on them to be labeled. Rather, they are a band that rocks, makes you think, and engages you in a mental conversation with yourself as you sit and listen to their songs, asking yourself, "How did this person get into this fucked up situation and how are they going to get out of it?"

"Savior of Time" switches off between sad, sorrow-drenched verses surrounded by Willy's painful, deeply concerned voice backed up by tension-building rhythms and a hard hitting chorus that takes the depressing story line and allows it time to hide behind the noise of the screaming guitars and pounding of the rhythm section. Of course, Willy's voice still takes center stage, making sure the listener doesn't forget the agonizing pain of the character in the song.

If you thought the deep, dark stories of Willy Vlautin were really impacting with the roar of the band surrounding them, a shock runs through your body when "Cascade" hits. The haunting acoustic guitar along with the tear-dripping, tear-jerking mandolin brings you to the height of sorrow with the tale of a boy who hasn't seen his mother in five years, but inherits $1400 from her death and ends up being killed by his step-brother for the $1400. Willy's knack for writing powerful, realistic stories about the downfalls and shit-that-happens in life is passionate and pure. You feel every word he sings and as you shed a tear for this underage boy who has just been killed, the band wastes no time in hitting you with yet another story that will find you hitting rock bottom, but enjoying every minute of it.

"Fifteen Year Old Kid In Nogales, Mexico" possesses quite possibly one of the saddest tales throughout this disc. You'll quickly be drawn in as this fifteen-year-old runs away from home and finds himself in Mexico. The acoustic guitar cuts right at your nerves, while the pedal steel soothes over your pains and helps you relax as the tension mounts. Willy's voice stays calm and collective, yet depressed, like always, as he tells the tale that aches inside his body and needs to get out so the pain that rests inside him can partially be eased. And, as the finale crashes down on you, as the kid accidentally kills a woman while driving her to her destination, you feel sorry for the lady, but also for the boy that has just met up with sorrow that will damage him for the rest of his life.

"Muddy Conscience," a cover of a late eighties Portland band, Rawhead Rex, that played rock solid punk/country music that was ten years ahead of its time, showcases Richmond Fontaine's punk side. The verses roar while the chorus rips into you with razor sharp slashes. Fast, furious, and full of power, Richmond Fontaine soar to new heights as they delve into their punk side and come out fighting.

Ending with "Hope & Repair," the tragic tale of a man who tries to save a prostitute from a life on the street, only to meet up murderous results, Richmond Fontaine not only bring you once again to an emotional height unmatchable by any band out there, but they wrap up this chilling installment of tales with you right at the center of it all. One of the most engaging moments on the disc, Willy Vlautin leaves the conclusion up in air as you are left to decide for yourself just what happens.

Like a collection of short stories, story after story (or rather song after song), you're so drawn in to the last piece of work that you want to find out what happens in the next one. And, as you get wrapped up in the continuing work, you find it necessary to finish the whole collection before putting it down. LOST SON, Richmond Fontaine's strongest effort to date, finds you facing the same urges and feelings. You feel as if you can't turn off the album until it is done; until you have decided what happened to each and every character. An engaging album that is as much based around the band as it is around your curiosity, you'll find countless listening in this album of eleven tales of death, murder, sorrow, and regret. I'll give it an A+.