Cockeyed Ghost
The Scapegoat Factory (Big Deal)
By: Alex Steininger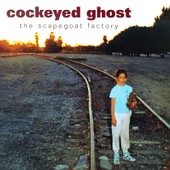 After two full-lengths, watching your bassist quit and then your drummer six months later can be devastating for any band, especially a three-piece. But frontman, songwriter, and guitarist Adam Marsland didn't give up. He recruited another drummer and bassist and forged ahead with the band's third full-length, THE SCAPEGOAT FACTORY, a pop-rock album with tremendous hooks, hopefulness, as well as some bitterness to boot.

Shining pop hooks and infectious choruses are not uncommon on this album; matter of fact, it's built around them. "I Hate Rock 'n' Roll" and "Big Big Yeah," two songs about hating the current crop of crap bands mass produced to sell records to unknown public by the industry, are both surrounded by glossy pop sing-along's and fuzzy guitars that put the oomph into the pop, allowing the rock some room to breathe, too.

"I Wish I Was A Girl" melds a strong bass line and powerful, dominant vocals in the verses with a pretty, almost feminine feel on the vocals when the chorus hits. Tightly packaged around a stunning hook, you get caught up in the excitement and start singing along with the hard-hitting pop and lyrics both.

"The Fates Cry Foul" brings in an acoustic piano. The bouncy, AM pop feel is vibrant and fueled by the piano, but the rhythm section adds the meat and bones to the music. Adam's voice carries well with the music and helps drive the tremendous pop beats home.

"Crap" finds the band reaching into their punk influences, cranking out some driving, power trio moves sure to knock you on your ass with their swift, calculated blasts of fury and rage. Not as warm or inviting as the band's pop-centered material; though the song has its pop aspects, it's too loud and obnoxious to really fit in with the rest of the pop on the disc. Here is the band at their rock 'n' roll height.

"Then I'll Be Happy" is a stunning power-pop ditty sure to echo around in your head while "Coda For Carl" is a pop-surf instrumental that will put some fun into the mix of things. Another version of "I Hate Rock 'n' Roll," quite different from the opening version and the acoustic guitar and voice of "Wonderland" help round out the album.

Bitterness and hopefulness sit pretty next to each other in a pop-rock stew that will have you bouncing around one minute and sitting down contemplating things the next. Sometimes the vocals get annoying and distract you from the music, but, for the most part, here is solid pop-rock for your enjoyment. I'll give it a B.