The Chapmans
Notes from Home (Pinecastle Records)
By: Alex Steininger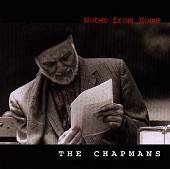 Bluegrass has been built around family traditions. Embracing that tradition, The Chapmans are a family band featuring: Bill Chapman (dad, banjo/guitar/vocals), John (lead vocals/guitar), Jeremy (mandolin), and 14 year old Jason (bass/vocals). Yet, they're not a band riding on the shoulders of any one member. They're a collective and natural as the family. Born and raised together, the same could be said about each song on their Pinecastle debut.

"You Can Run But You Can't Hide" frolics around with a tremendous bluegrass stomp that will make you dance until you burn holes in your soles. The rich vocal harmonies, a tradition in bluegrass, are alive and kicking as the band excels in the vocal department, not to mention the instrumentation department as well.

On the same note, "Raining In My Heart," though not as rigorous as "You Can Run But You Can't Hide," gets your feet moving and your body warm with, once again, the rich vocal harmonies, light percussion, tingling banjo, and sweet mandolin. Of course, the band's picking action is unmatchable on "Lonesome Hearted Blues." "Out Among The Stars" is a bluegrass ballad. Slow and contemplative, its rich, soulful feel hits you straight in the heart and warms up your body in the deepest of ways. "Fool's Castle," another highlight of this album, does the same with its steady, spiritual sound.

A family of songs, a family of musicians, and a family vibe all make this album as great as it is. You can't help but feel the love that is embraced by the family for not only each other, but the music as well, throughout this album. I'll give it a B+.