Canned Heat
Boogie 2000 (Ruf Records)
By: Alex Steininger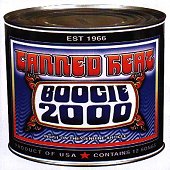 Formed in 1966, Canned Heat, a seminal blues-rock band, has toured, performed, recorded, and released material ever since. Though, they've gone through several line-up changes (the drummer is the longest running member, since 1967), the band still has a few sparks left in them that you can find throughout this tired, lackluster release.

"Wait and See," the album's opener, is a crafty, swift rock jingle that dances around in your head and has all the juicy hooks you'll need to grow fond of this number. The horns are smooth, the vocals glide through the song, and the rhythm section is right on the mark. But, the energy and intensity of this song aren't matched throughout the rest of the album. "Dark Clouds" is a weak blues number that tries to muster up the sparks the album opener has, but doesn't come close. "I Got Loaded" has some nice slide and guitar licks on it and the rhythm section once again finds their spot, but "She Split," a typical blues-rock number found throughout this album, just doesn't have the jump it needs.

The spark may have died or may just be re-charging, but this album doesn't make the grade. Its lackluster approach to the blues and rock, both of which require a lot of gust and straight-from-the-gut energy, falls flat on its face. I'll give it a C-.