Bottle Rockets
Brand New Year (Doolittle/Mercury)
By: Alex Steininger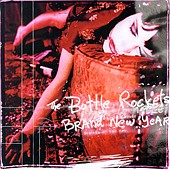 If you're looking for some hard rocking, Americana/country tunes that are meaty, while keeping a tender side in site, than the Bottle Rockets are your band. Their fifth record, and first for Doolitte/Mercury, BRAND NEW YEAR, is a fourteen track stomp through some great country moves muscled up with plenty of rock 'n' roll momentum.

"Nancy Sinatra," the opening track on this album, will have you wailing along with its devilish charm and unforgettable beat, which swirls around in your head and just won't relent until you're as involved in the music as they are. Continuing on down the same path, "I've Been Dying" keeps your feet moving and hips shaking with some roots-rock that tingles with excitement. The band sweats while making you shake; the temperature rises as the band burns through their instruments to deliver you the most energetic, rocking good time they can.

"Let Me Know" brings you more of the same heart-pounding, swift rock 'n' roll that will have you drinking, dancing, and smiling. Of course, even a band like this has to slow down, a bit. The title track is a heavy garage rocker with a thick country accent. Instead of romping through the rock heartland, its plaintive feel is perfect to hit the bottle too.

This is one band that knows how to write one mean drinking song. But, that's not what they're only about. They want you to get up, dance, and think while listening to their music. And that's exactly what they get you doing. If you don't, well, I don't know what to say, because it's clear as day to me. I'll give it an A-.