No Use For A Name
More Betterness (Fat Wreck Chords)
By: Alex Steininger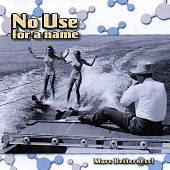 On their sixth full-length, and forth for Fat Wreck Chords, No Use For A Name deliver more sweet, delicious pop melodies along side some solid lyrics. However, as a punk album, MORE BETTERNESS, although easily placed in the pop-punk category, lacks any edges a so-called 'punk' album should have. It's energetic, tight, and highly melodic, but doesn't have the kick to strike you in the gut and make you feel every note.

"Life Size Mirror" is an album high; bouncy drums, clear vocals singing straight from the heart, thick bass, and some catchy three-chord pop guitars with plenty of fuzz help make it a pop-punk standard you'll quickly enjoy.

"Lies Can't Pretend," "Lies Can't Pretend," "Pride," and "Six Degrees From Misty" all have the bouncy rhythm section, fuzzy guitars, and pop hooks which make this album infectious. The addition of the sweet growl of a female on "Fairytale of New York" helps give the album an even more distinct flavor. However, the fact still remains this album is clean cut and harmless; the sort of punk album your parents would love you to bring home. The edge and danger have all been taken out.

It's still a sweet, melodic pop record; that's for sure. Nothing will change that. But, the same old production, typical pop-punk beats, and easily anticipate-able feel of the album just cuts away at any drive the band has. I'll give it a C.