Lonely Kings
What If? (Fearless Records)
By: Alex Steininger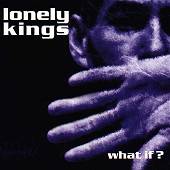 A three-piece from Santa Cruz, California, Lonely Kings' debut is a mix of emo, hardcore, and pop-punk filled with plenty of hooks, sing-along choruses, and plenty of energy to push you to the edge. One your first listen you'll be curious and keep listening; each subsequent listen thereafter will find you deeper and deeper in the music.

"Runaway to Spain" is a tender emo song that masks its open wounds with some fast, fuzzy guitars and a hard, pounding rhythm section that help provide a wall to the heart-on-the-sleeve feel the song has, but tries to keep you from getting too close to. The infectious chorus will find you and take control, while the overall energetic feel of the song is hard to pass on.

"Money" is another prime example of the band's ability to take their hardcore and punk influences, grind them up, and use them to give their emo sound a big, swift kick in the ass. However, whereas tracks like "Runaway to Spain" possess a big hook and infectious chorus, the hardcore drives this song, losing the accessibility and poppy feel that drag you into other tracks.

"UFO" and "Wish" bring back more of the emo, though always pumping them up with plenty of punk and pop, if not hardcore, to give the sensitive, softer nature of emo a bite. And a bite is what they've got, especially on "Radio Roulette" and "True Grit," two more tracks that fuse the emo and hardcore, but always leave room for melody, and don't dwell on the angry side of hardcore or the sensitive feel of emo too long.

Lonely Kings, although its true they're all the about emo, never fall prey to the overly-sensitive or weak happenings that often occur when bands get too wrapped up in their "emo" tag. With plenty of punk and hardcore, they've got grit in every song, and aren't afraid to get muscular and mad now and then. The pop and melodic tendencies they possess help make the songs even more accessible and will find you singing along on more than one occasion. I'll give this album a B-.