The Frantic Flattops
Rock-N-Roll Murder (Get Hip)
By: Alex Steininger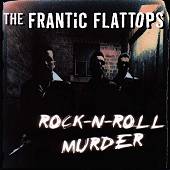 Greaser rock-a-billy with plenty of punk rock and rock 'n' roll roots to boot; The Frantic Flattops know how to get a party going. Their rock-a-billy is revved up, sweaty, hard, and full of rhythm, perfect to dance too or to work you into a frenzy with. On their third full-length, the band finds themselves playing with punk, rock, and even a bit of swing with their standard greaser tunes.

"Stick Around" is a stompin', rowdy rocker with the upright bass leading your feet to the dance floor. The drums pound and prance while the guitar soars and screeches. Then the vocals scream and croon all the way through, making sure rock 'n' roll is the only thing on the mind of the listener.

"Sugar Daddy" is the band's attempt at hard-edged, broken-nose swing with plenty of kick. Swing horn lines intertwine with the acoustic piano to invent the swing side of the song while the rhythm section stays hell-bent on keeping the rock 'n' roll alive, as does the vocals, of course. The result is a loose cannon just waiting to kick your ass.

Then on "Trail of Tears," the band demonstrates a bit of their hillbilly influences while they kick out the rock. A smooth, meaty rhythm section bounces and bops along with the guitar slides in the hillbilly; the vocals, on the other hand, never loose their edge and always make sure you're focused on them.

"You Better Move" is a slick, stylish rock-a-billy vibe that, combined with the horns, takes you back to the days when rock 'n' roll wasn't depression or sadness, but rather a non-stop party that was all about dancing with the girls, getting loaded, and forgetting your worries while the music blared and kept you entertained for hours on hours. The metal-esque, arena rock-a-billy of "Pirate Love" is the same way, keeping the rock 'n' roll energetic, lively, and fun.

The light "infidelity," which could almost pass as a rock-a-billy love ballad and the title track, "Rock-n-Roll Murder," a jazzy rocker, keep the sweat flowing, the dancing alive, and the spirit of rock 'n' roll right where it should be. The sad ballad, "Redemption Blues," helps end the album with some hard luck tales sure to put you back in your place.

If you're ready to dance, have fun, and get your ass kicked at the same time with some sad tales, then The Frantic Flattops are just the band for you. No assembly required, just pop in and watch the party start. I'll give it an A-.